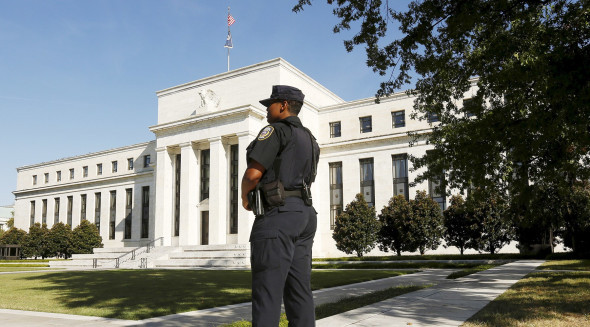 There are a lot of criteria (or, as Andrey Devyatov puts it, intelligence indicators) of certain events. In particular, a lot could be said about the problems in the USA Federal Reserve system (and the Bretton Woods model as a whole) referring to conflict between Trump and Powell (Federal Reserve chief) and to Putin or Macron's statements. But there is always a solid justification the most easily defined by the Russian proverb: «The lovers' quarrel is the renewal of love».
As we have no knowledge now and, most likely, will never know the inner technicalities of international (and even internal) negotiations, there is simply nothing to talk about, it's only a matter of interpretation. And those who skeptically react to the «left» turn in Russia and/or conservative turn in the world, can always laugh off such arguments: today Putin is talking about the Bretton Woods system collapse, and tomorrow he'll raise the retirement age again…
And it's quite difficult to contradict such arguments, as there are merely words against words. Consequently, a question arises: is it possible to somehow more clearly understand if the liberal group (the «Western» global project proponents) have internal problems?
For instance, do they make any comments on that themselves or not? And if they do, what do they say?
Well, the number of «it's-all-UP-ists» has greatly increased lately, including quite high-profile personalities in the West, such as J. Stiglitz, the winner of the Nobel Prize for Economics. But these personalities are solitary. And what about the general view? Recently, having been looking through a one more press review of ours, I've come across a wonderful abstract:
No diversity within the Fed?! 30.07.2019 Juliegrace Brufke (The Hill):
«Top members of the Congressional Hispanic Caucus are raising concerns over the levels of staff diversity within the Federal Reserve System, arguing there should be more minorities in leadership roles to better reflect the makeup of the United States. In a letter spearheaded by Congressional Hispanic Caucus Chairman Joaquin Castro and sent to Federal Reserve Chairman Jerome Powell, the group of lawmakers cited the number of people of color in significant roles and said they believe diversity efforts in hiring need to be increased.
«As of the date of this letter, the websites of the regional Federal Reserve Banks indicate that there were only four Hispanics among the 107 filled seats on the Regional Banks Boards of Directors. Just two Hispanics serve as Class C Directors and you have direct authority over these appointments» — they wrote.
«There has never been a Hispanic President of a Federal Reserve Bank. In 2019, this is not acceptable. Placing Hispanics in trusted public roles is vital and sets a meaningful precedent at a time when the political and civil rights environment for Latinos has deteriorated so dramatically»
Reps. Ruben Gallego, Nanette Diaz Barragán, Adriano Espaillat, Veronica Escobar and Tony Cárdenas and Sen. Bob Menendez signed the letter. The group said they are willing and ready to provide «advice and support» on how the Fed can create a more inclusive environment better represent Hispanic voices.
«We encourage you to take a stronger leadership role promoting diversity within the Fed, specifically at the governance level» — they said
«The lawmakers went on to request information on what steps the Fed is taking to ensure greater diversity; how officials are »encouraging regional Federal Reserve banks to include one or more community advisors to participate closely in the interviews and vetting of candidate»; whether they are ensuring they interview diverse candidates «for the position of President when they become open»; and what training and retention programs are in place to promote the growth of diverse junior staffers»
Let's look at things as they are: in fact, the USA have been a country under occupation for many decades, as its policy was dominated by an external transnational financial group. This group have exercised power through control over the USA monetary system, in due correlation with the federal reserve law. And, of, course, in such situation no one dared to even utter a word about diversity in the Federal Reserve top management. After all, there have not been many American citizens there, but mostly people on banking nationality.
By the way, I don't mean Jews here, though their percentage is a lot higher than their number as the USA citizens (that's what the Latins from the above abstract make an allusion to). The point is, the banker elite is a very closed group where families inherit membership for hundreds of years, and they consider the group's interests apart from the interests of the countries they live in today. Trump is speaking a lot about it now but he isn't heard well, as the topic has been tabooed for long.
This is rather natural: as the economics' budget has been getting money exclusively through the financial system for many decades, it would be unwise to raise any objections to it. And any Senator, either Afro- or Latin-American, in order to keep the reputation unblemished, has known better than to argue against any banking lobby (who have control over almost all mass media). Otherwise no money could be raised for a new election race. That's why all «human rights» organizations protecting rights of gays, lesbians, blacks, disabled and other miserables have somehow overlooked gross violations of political correctness in finance. It's quite natural – who pays the piper calls the tune, but this wasn't talked much about (our site is an exception). And suddenly so much for that!
What does it mean? How could this have happened? It's rather simple: The «Western» project's affairs have taken on an ugly look, the conservative tide has been rising, and it became clear this summer that things may go loose, as even Powell has bended and reduced the discount rate on Trump's demand. And all the structures, formally independent but monetarily subjected to the «Western» project, have started worrying. No one wants to be allied to a loser, as hate and contempt for losers are very strong in the USA culture.
And the hyenas have started biting, if not tearing yet, the dying (or overweary) lion. If he can roar, things may calm down for a while. But here are some problems too: the rules of Power demand not only to roar, but also to punish. And the bankers have surely no resource for that. If tame senators are penalized (deprived of money) the Trump's ones will slip past, which is going to be a disaster. That's why the «hyenas» have figured out that to get a toehold, they should push their kids trough to top banks. There are no fools to refuse that.
As a matter of fact, the authors of the above petition's logic is completely clear, transparent and forgivable, anyone would do the same walking in their shoes. But the key matter is, they would never pursue that unless being absolutely sure that the bankers' positions were no longer strong. Because that might lead to trouble! Thus, this story speaks for itself meaning the «Western» project is undergoing significant problems irrespective of what Putin, Trump or even Macron say.
So, the above text (to be more precise, a collision described therein) unmistakably shows that liberal elite groups are in such serious trouble that mere existence of these groups is becoming questionable. And this is not just a matter of my interpretation, but is demonstrated by their own structures. Thus, I only have to establish that I had described this tendency long before it became a reality!